Hiring
Anchorage Marine Contractors
to install a boat lift in SW Florida will secure your boat above water at your dock or marina. Most boat lifts are motorized and raise a boat by simply pressing a button. Most boat lifts are made of aluminum, as it is lighter, sturdy, and rust-free. There are four general types of boat lifts in SW Florida: cantilever, freestanding, hydraulic, and floating. Cantilever boat lifts are easy to maintain and can lift boats farther out of the water. They are best in shallow water. Hydraulic boat lifts are powered by a battery and will move the boat out of the water quickly and quietly. Freestanding boat lifts can attach to your docking system or stand alone and can be used in muddy lake beds and rocky river beds. They can also be easily removed. Floating boat lifts float on top of the water next to a dock or can be connected to a floating dock. These boat lifts are meant for deeper water or beds that make boat lift installation in SW Florida more challenging.
Why You May Need a Boat Lift
You should consider a boat lift if your boat will be stored in water for long periods of time. Having the boat suspended out of water in a boat lift will protect the underside of your hull and other submerged parts from becoming corroded and vulnerable to algae buildup. Boat lifts also prevent barnacles, zebra mussels, and other unwanted creatures from clinging to and ultimately damaging your hull. Boat corrosion can cause costly, extensive damage, requiring expensive repairs and maintenance. Boat lifts also provide added security when docking your boat, as you won't need to worry about a loose line or damage to the boat from hitting the dock in a storm. There is also no risk of your boat sinking if there is a bilge pump failure. Finally, boats stored on boat lifts are less likely to suffer dings and scratches or hull staining.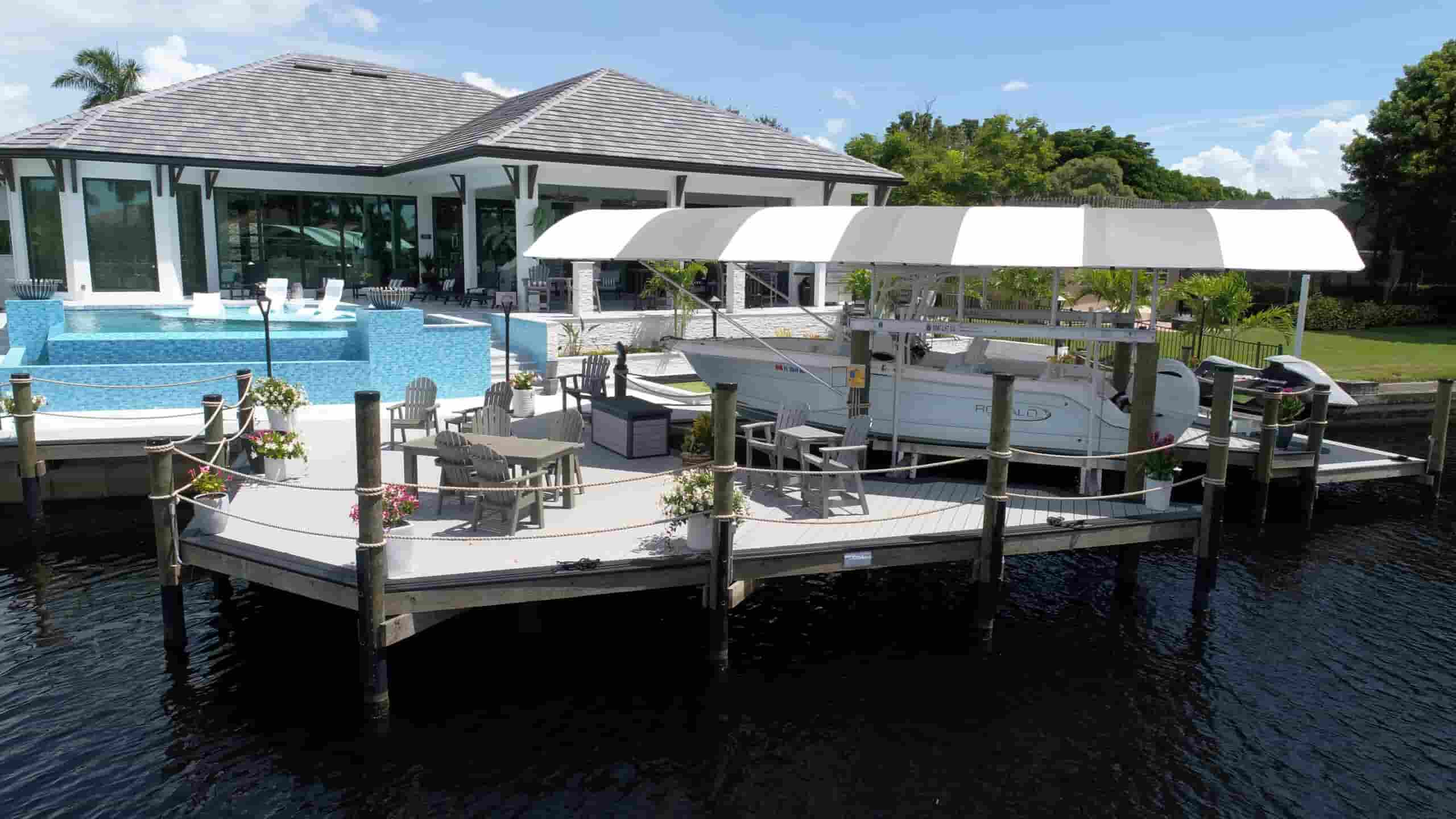 We offer boat lifts from two trusted manufacturers in SW Florida: Boat Lift U.S. Inc.®, and Dolphin. Both manufacturers create sturdy, time-tested, reliable boat lifts for different boat weights and sizes. We are happy to discuss the benefits and features of each of these manufacturers with you in detail before we make our recommendation to you for your boat lift in SW Florida.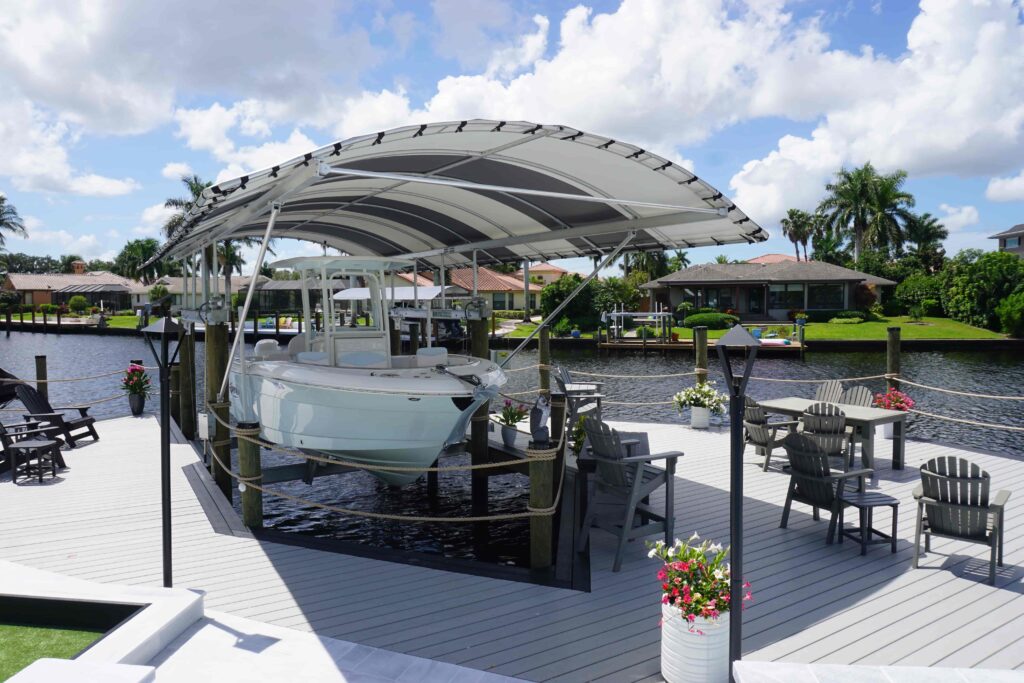 Boat Lift U.S. Inc.® Lifts
Boat Lift U.S. Inc.® boatlifts are made of stainless steel and 6061-T6 aluminum for strength and durability. Boat Lift U.S.® is also the home of the no-weld boatlift, eliminating weak points.
We can even put a Boat Lift U.S.® boatlift in your boat house in SW Florida. We use many of the same features from our other boatlifts in the boat house to guarantee uncompromised quality for our full range of products.
We also specialize in Up-N-Over® Personal Watercraft (PWC) lifts in SW Florida that allow smaller crafts to be lifted completely out of the water, then rotated over the dock for easier maintenance. These lifts feature heavy-duty stainless steel and aluminum construction, and we can accommodate both standard and custom designs.
Boat Lift U.S. Inc.® Features
Every Boat Lift U.S.® boatlift in SW Florida is equipped with these standard features:

Available in Stainless or Painted

6061-T6 Aluminum Construction

Machine-grooved Aluminum Cable Winder (protects the drive shaft and winds the cable without overlap.)

Aluminum Bunks (without wood, nothing floats. There is also no carpet to replace.)

No-weld Construction (welds weaken structural aluminum, so why weld? None of our lifts are welded, so you know they are strong.)

Back Plates or Gearbox™ Structural Aluminum Bearings; All Bearings offer Grease Fittings (others use nylatron or other plastics, which can swell or break down in humid environments. We don't. We use greased aluminum bearings. They won't rust, they won't break down, and they won't swell.)

Cradle Ends with Solid Extruded Sheave Enclosure; not welded onto or into cradle I-beam.
Dolphin Boat Lifts are a convenient way to lift your boat out of the water. Dolphin boat lifts in SW Florida are a drive-on boat storage system. A Dolphin Boat Lift will help protect your investment, save time and money on costly storage fees, maintenance bills, and fuel, support and secure your boat from the bottom of the hull as it was intended, and chocks nestle directly under the hull and transom.
Dolphin Boat Lifts, Inc. enjoys the honor of being the oldest boat lift manufacturer in SW Florida. Dolphin is committed to providing customer satisfaction, competitive pricing, low maintenance, and a quality product. Dolphin lifts are certified and approved by an independent, Florida-based engineer, exceed the State of Florida's insurance requirements, and are fully insured with product liability insurance.
Dolphin Boat Lift Features

2 or more ¾HP or 1HP motors

Engineered structural designs

Hot dip galvanized structural steel

Heavy duty structural I-beam

Wide flange H-beam

Galvanized and stainless-steel hardware

Safety proven worm gears

Cables are aircraft-grade stainless steel

Aluminum sheaves with leaded bronze bushings

Double sealed bearings retain the grease and provide for low maintenance

Aluminum sleeves to protect the drive pipe

Designed and custom-built specifications
Contact Anchorage Marine Contracting Today to Get Started on Your Deck, Boat Dock or Seawall in SW Florida
Before choosing a boat lift in SW Florida, we will visit your site and fully evaluate it to determine exactly what type of boat lift is best for you. We will consider the location and structural strength of your dock and boat, the size and weight of your boat, your boating habits, your budget, the depth of the water, and the slip width. We will make an expert recommendation as to the type and weight capacity of boat lift that is best for you and your needs. At
Anchorage Marine Contracting
, we have years of experience in constructing, building, and installing marine fixtures such as docks, decks, seawalls, and boat lifts in SW Florida. Because we've been in the marine community in Cape Coral, FL and Ft. Myers, FL for so long, we have connections and business partnerships throughout the community and we know the community well. If you're ready to discuss a boat lift for your boat in SW Florida, just call us today at
(239) 673-9912
or schedule a site visit and consultation by
filling out our online contact form.